Whacky Races! Our new fun Team Activity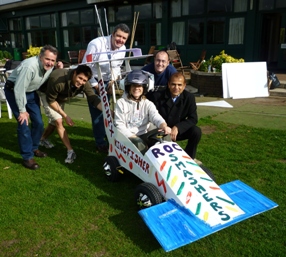 Whacky Races is a brand new fun team activity that we are pleased to offer our corporate clients in 2014. It is guaranteed to get your team working together effectively and is great fun as well! The emphasis is on good teamwork and team development and it finishes with an uplifting finale involving the whole group.

Team Activity Brief:

The event starts with the teams being told that our reigning Formula One world champion "Chocolate Button" has been left without a drive for the forthcoming season. Using the equipment provided and all of the teamwork skills that they can muster each group must build and brand a car that is fit for a champion!

The teams are each issued with a set of basic equipment but extra resources may be available to those groups that can complete a series of fun team development games. The games can be played for "funny money" that can be used to buy extra equipment such as hubcaps, paints and body panels.


Kart Specifications:

Each kart must conform to a strict spec sheet, as befitting such a prestigious event as the Formula One World Championships. At the very least, the karts must have the following components:


Alloy Wheels


Sponsorship Logos


Full Body Kits


Corporate Branding


Go Faster Stripes


A Spoiler (bigger the better!)


Exhaust pipes


Team Name



Team development elements involved in this team activity:

To get their team working effectively each group will have to display a number of the following team characteristics:


Teamwork


Planning & Problem Solving


Time Management


Leadership & Communication


Creativity & Design


Multi Tasking


The Finale:

Once the karts have been constructed then we invite "Chocolate Button" himself to inspect them. The winner is awarded Pole Position on the grid for your team's very own Grand Prix!!! The finale is a race to see who takes the chequered flag!



Other Team Working Events:

We are a fully mobile events company who can attend venues throughout the UK and Europe. Click on the blue links below to see some of the other Team Development packages that we can offer:


Mission Impossible


Acropoli Giant Board Game


Lost Inca Treasure Trail


Enigma Team Challenge


Team treasure Hunts


Multi Activity Days


Office Olympics


Contact details and prices:

To book this fun team activity please call us on 07896 632390, send an email or fill in our online Enquiry Form. A member of our events team will endeavour to get back to you with a proposal within 24 hours.

If this page fails to load please click here or visit our team building activities page for more teamwork events.