Old Masters Indoor Team Building Activity


This is a fantastic and unique new Indoor Team Building Event brought to you by Phoenix Leisure. It can be used either as a powerful stand alone Indoor Team Building Activity or even as a form of after dinner entertainment. This team activity encourages creativity, interaction, interdependency and team cooperation. Is has the added advantage of all of the teams working in close proximity with each other and it leads to an uplifting finale involving every person present at the event!


Old Masters is just one of the Indoor Team Building ideas that Phoenix Leisure can provide for your company event.




Old Masters Indoor Team Building Event- how it works:


The event involves the recreation of a Grand Masters Painting on a giant scale! (alternatively, pictures or a Company Logo of your choice can be utilised).

Each team has to create their own smaller piece of the giant picture using a different medium- these may include a wide variety of materials such as oil paints, collage, newspaper cuttings, crayons, felt, pipe cleaners or even beach flotsam and jetsam.

We have even been asked to include products made by our clients? company!




A series of fun Ice Breakers are used to commence proceedings. Teams play head to head for Funny Money. The winners can choose the painting to be created and they also get to have first choice of materials.

Old Masters is a fun Indoor Team Building Event that encourages all of the staff from your office to interact with each other.

For the Grand Finale all of the teams are asked to leave the room for a few minutes whilst the instructors collect the separate pieces of the picture. These are then collated on a giant board and everyone is invited back in the view the finished Masterpiece.

The final creation is a true reflection of Teamwork demonstrating how small teams can work independently towards a larger common goal. The painting can also be taken back to hang on the office wall as a reminder of the Event!

Price Structure: Please call (07770 982290 or 01237 478472), email or use our online enquiry form for prices.


Some other Indoor Team Building Ideas:

Our other two most popular indoor team building events are the Indoor Office Olympics and our unique Giant Acropoli Board Game. We have also just added two great new activities to our indoor portfolio- Whacky Races! and The Great Space Race.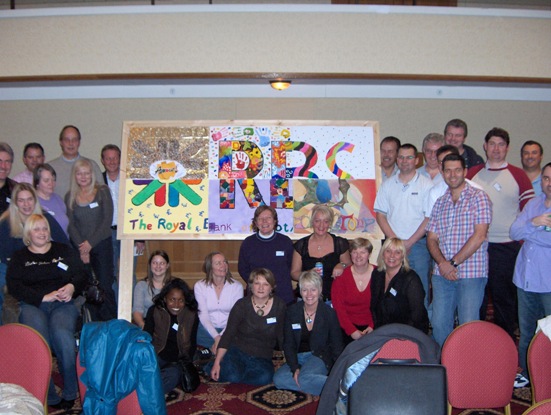 For information on more Team Building Packages please visit our main Team Building page or return to our Home Page.