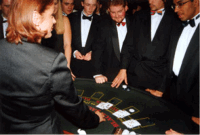 Fun Casinos

Our mobile casino tables are of the highest quality and make a most impressive spectacle for your guests. Tables can include a combination of American Roulette, Blackjack, Dice and Poker.

We have a an experienced team of Croupiers, who are well trained and well versed in dealing with both the novice and more experienced players!

For a small extra cost the Funny Money can also be personalised using the Company Logo, or even the face of a prominent member of staff!