Indoor Team Building Activities

Phoenix Leisure has been providing an exciting range of dynamic indoor team building activities to our corporate clients for nearly 20 years. We offer a fully mobile service and can attend any venue in the UK, as well as providing events further afield in Europe. Some of our packages are unique to Phoenix Leisure and we are always striving to add new events to our portfolio. If you have an idea for an event just let us know and we will do our best to turn it into reality! Our packages are designed to suit all ages, abilities, group sizes and budgets. In March 2014 we added two new ideas to our portfolio- ask about the Whacky Planes and Building Bridges events!

Why choose an indoor activity?

Apart from the obvious reason of not being dependent on the weather, an indoor team activity can have several advantages over an outdoor team event: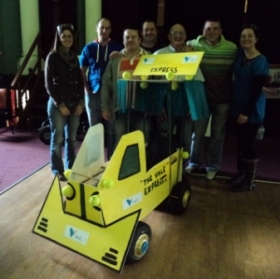 The group stays together: improving interaction and communication both within and between teams


Indoor events are more inclusive: catering for a wider range of ages and physical abilities


City centre venues: indoor activities are ideal when outside space is limited


Better atmosphere: especially for competitive team events like the Office Olympics or Giant Acropoli


Some team activities just work best inside!- our more creative art based activities such as Old Masters or the Great Space Race need tables and chairs


Evening Events: an event inside is ideal if you need to hold your event during the hours of darkness. Something like our Pub Games package would fit the bill perfectly and we can aslo add extras such as fun Casino Tables, Batak reaction challenge or Giant Scatextrics to make a "Night of the Millionaires" package.


For March 2014 we have just added two brand new activities to our portfolio called Whacky Planes and Building Bridges- please ask for details.
Contact us:

If you are thinking of booking an event or would just like some more information then please feel free to get in touch with one of our experienced Event Managers, either by phone (mobile is best: 07896 632390), by Email or via our online Enquiry Form. Listed below is a brief synopsis of some of our most popular packages:




A Selection of our most popular Indoor Team Building Activities include:
Whacky Races!

This has been far and away one of our most popular events during the past season! Teams are all issued with an identical set of equipment with the brief being that they have to design, build and fully brand a new "Formula 1" car.

The design specifications must include:



Alloy Wheels

Spoiler (bigger the better!)


Sponsorship Logos


Team Name


Branding


The Finale is a fantastic "Grand Prix" where all of the karts get to race "head to head"!. This fun activity calls for teamwork, creativity and resource management.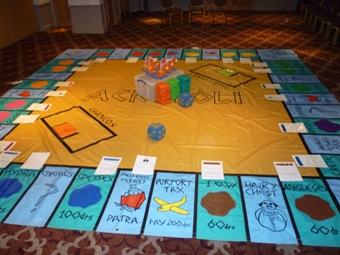 Acropoli Giant Board Game:

Totally bonkers is the only way of describing this game! It's a visual and fast paced event that has been one of our most popular events for several seasons. The teams play head to head on a giant 18ft square board covered in Greek Islands (with names like "Moussaka Mountain and Hairyarmpitopolous!).

The aim is simple: to acquire as many islands as possible! Once they have a set then teams can charge opponents for Donkey Rides up and down the beach or Mooring Fees in their luxury marina. There are also pitfalls on the way round the board such as the "Kebab Van Tax"! Money is earned by playing a series of fun head to head games and the board is played using Giant Dice.

It's a brilliant and totally unique team building event with a rousing finale when the inevitable "bankruptcy" looms!



"The Great Space Race"- our latest fun Event!

NASA has decided to replace the aging Space Shuttle with a new breed of multi purpose space craft. They have decided to put the project out to tender so each team is issued with an identical set of equipment from which to build a commercial space craft fit for the 21st Century!

It can be of any design but must be fully branded and decorated to reflect the huge investment on the part of the sponsors. This is a great fun team activity that calls for a combination of skills:



Resource Management


Creativity and Articstic Flair


Problem Solving


Imagination


Leadership


Teamwork and Communication


The results can often be quite stunning with everyone getting "hands on"! For the finale, each team makes a 60 second pitch before a "Dragons Den" style panel of judges.





Pub Games and Giant Games:

Pub/Giant Games is a fun and interactive activity, ideal as form of post conference or evening entertainment. Phoenix Leisure has a great selection of games that can fit any shape or size of venue. We can also introduce an element of competition where teams are all issued with "funny money".

The players then race around the games betting against their opponents- the aim is to win as much cash as possible within a given time!

This is a great activity to improve interaction both between and within teams. Other fun games such as our newly acquired BATAK Wall can also be added to this package.

Phoenix Leisure owns one of the most extensive selections of Pub Games and Giant Games in the country. Our Giant Games include: Giant Jenga, Giant Connect 4, Giant Twister, Giant Battleships, Giant Yahtzee, Giant Chess, Giant Draughts, Giant Dominoes, Giant Noughts & Crosses and Giant Kerplunk. Our selection of Traditional Pub Games includes Table Skittles, Bagatelle, Shove Ha'Penny, Shut The Box, Shuffleboard, Mini Jenga, Downfall, Pub Table Football, Backgammon, Electronic Darts and even Karom! We carry more than one of most games so can run a Pub Games Evening for groups of up to 100 or more.

.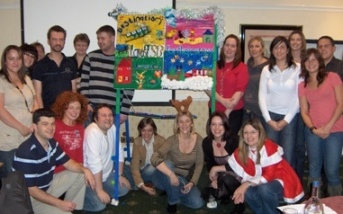 Old Masters- Creative Painting Activity:

This is a fantastic creative indoor team building activity that involves a huge amount of co-operation and communication. The learning message is simple: "the whole is greater than the sum of the parts". A famous painting or even better, the company logo, is split into several parts and each team then does a giant version of their one small piece.

At the end, all of the pieces reunited and fitted together to create a massive artwork that can be taken back to the office. We provide a vast selection of materials (even equipment and tools to make a frame!) and the results can be quite amazing- one client even shipped a 48 piece picture of the company logo all the way back to Finland!

Old Masters is a very inclusive activity where everyone gets involved.

The Indoor Office Olympics

This is a great activity for encouraging interaction both between and within teams. The games come thick and fast and are all played "head to head" for "funny money"! Games can include:


Spaghetti Bridge


Blindfold Tent


Wiggle


Board Meeting


Build A Crane


Jenga Challenhe


Where's Murphy?


Egg Tower


Catch Phrase


The team that has aquired the most cash (by hook or by crook!) at the end are declared the winners!
We are constantly adding to our portfolio so make sure you get in touch to hear about our latest ideas. In April 2014 we added Roller Coaster, ideal as a short team activity lasting up to 2 hours. We are fully mobile and can attend any venue in the UK as well as travelling further afield to Europe.