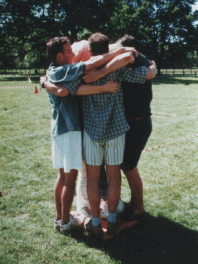 Ice Breakers and Team Energisers from Phoenix leisure

Our Ice Breaker Games offer a very effective means of breaking down barriers at meetings and energising participants before the main Team Building event begins. Alternatively, Ice Breakers can be used as a post conference energiser or as a stand alone event in their own right.

A group will typically be split into teams and participate in a series of light hearted fun games and exercises. Each team is given a call sign (such as being Loud Farmers) to encourage team identity and participation.

Although fun, an element of competition can be included! The Ice Breaker Games are fast and furious calling for quick thinking, interaction and a sense of humour. A Joker can be played to earn double points! We have a wide selection of fun Ice Breakers to choose from.