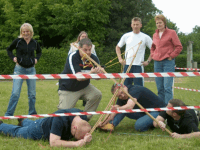 Grenade Launcher: planning, design and leadership:

Using the equipment provided, the teams have to construct an egg launcher. Not only do the teams have to fire the egg across a gorge, but they also have to catch it to earn maximum points!

Price Structure: Please call, email or use our online enquiry form for prices. For information on more Team Building Packages please visit our main Team Building page or return to our Home Page.