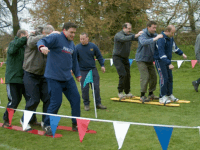 Obstacle Ski racing: team interdependence, cooperation and trust:

Great as an Ice Breaker or as a team exercise in itself. Three members of the team are linked on a pair of skis and have to safely negotiate an obstacle course. This game calls for balance and teamwork and it can be hilarious fun for onlookers!

Price Structure: Please call, email or use our online enquiry form for prices. For information on more Team Building Packages please visit our main Team Building page or return to our Home Page.