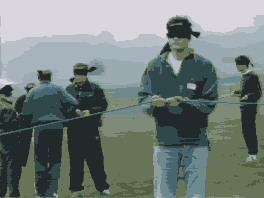 Rope Square: problem solving, communication, trust and leadership:

An excellent team exercise that really does call for cooperation and teamwork. The team is blindfolded before they even see the task! They are led over to a huge rope that is formed in the shape of a loop and laid out on the floor.

The seamingly simple task of turning the loop into as large a perfect square as possible is extremely difficult to achieve when the whole team is blindfolded.

Price Structure: Please call, email or use our online enquiry form for prices. For information on more Team Building Packages please visit our main Team Building page or return to our Home Page.