Laser Clay Pigeon Shooting Hire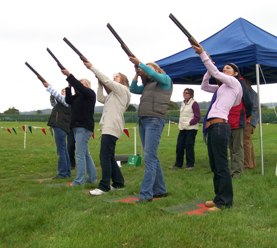 Laser Clay Pigeon Shooting:

A perfect activity for venues where it is not possible to offer real clay shooting (such as city centre hotels with limited grounds). Up to five people can play on Laser Clay Shooting at any one time. Guests use deactivated shotguns fitted with a laser beam to shoot at clays fitted with a reflective strip. We use an automatic trap to throw out the clays (or "birds") and a scoreboard keeps track of your progress to let you know who is Top Gun!

Laser Clay Pigeon Shooting is suitable for all abilities and ages from 8 upwards. It is a safe and environmentally friendly activity that simulates real clay pigeon shooting very effectively. Because there are 5 players at once it is ideal as a stand alone activity, as part of a Family Fun Day or as part of a Multi Acivity Event.

Space requirements: we need a minimum grassed area approximately the size of a tennis court. The clays are plastic so we take them away with us at the end of the event. The scoreboard has an integrated volume control so we can set the bang noise that the guns make to an appropriate level.

Contact us to book your activity:

For further information and hire prices please call us on 07896 632390. Alternatively, send us an Email with your requirements or fill in our online Enquiry Form and we will endeavour to get back to you as soon as possible.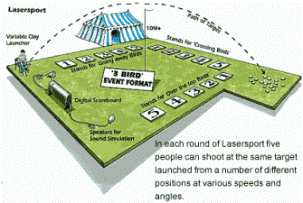 Laser Clay Pigeon Shooting as part of a fun outdoor Team Building Event

One of our most popular Team Building Activities involves mixing fun activities such as Laser Clays and Target Archery with team exercises such as Spiders Web and The Virus to create a "Dash for Cash" Event.

Teams compete for "Funny Money" on the Activities and come together at the end for an action packed head to head Grand Finale!
This activity is ideal for:

Corporate Events


Team Building Days


Stag & Hen Parties


Fundraisers


Family Fun Days


Wedding Entertainment


Family Celebrations


News for May 2014! We now have two Lasersport systems so we can provide two shooting stands if you are looking to book a larger event. As well as Laser Clays we can also supply other Field Sports Activities such as Archery and Air Rifles

Phoenix Leisure offers a fully mobile service attending venues throughout the UK. If you are interested in buying your own system or need some technical assistance then please visit the Lasersport website.